Captain Cloggy is a gnarled old Yorkshireman who lives in the legendary village of Royston Vasey. Loves Mechanical things and Steam and has a weakness for hats, corsets and Antipodean ladies. NB. All images are copyright of the original creator --------------------------------- Message Cloggy
HERE
Click HERE for Tumblr Contact
July 27, 2013
http://qoana.com/blog/wp-content/uploads/2013/07/766-baby34metamorphosis2.jpg
Cloggy:— Kahlila Gibran's hovering stage lasted into adulthood.
July 14, 2013
KAHLILA GIBRAN AND LEVITATION  Part 2 :— The Royston Vasey Years
This was preceeded by a troubled part of Kahlila's life. A certain person tried to kill her off twice, only mine and Tindinks efforts saved her and finally, when she was made homeless by her blog being closed down, she moved to Royston Vasey. 
She lived at the pub for a while then she converted the end of the upstairs room in The Shed into a cosy little flat.
Though it tended to get a bit crammed with various gadgets she had built
Master Li had problems at first with the heating arrangements but they got sorted out eventually.
The first time the people of Royston Vasey became really aware of her arrival was when there were  several cases of children in the area being found floating several feet above the ground. After questioning it emerged that the common factor was that all the children confessed to having been cheeky to a lady in a Top Hat and Goggles.
During her discussions with Master Li on Levitation Kahlila Gibran suggested they try a combined attempt at Levitation to see if the could raise one of Li's sheep higher than their individual five feet. The result surprised them both as the height reached was not just double five feet but some multiple of it.
They tried standing at the top of a slope and found they could "fly" the sheep at a considerable height above Colne Valley and control its speed and direction to an extent. Kahlila wrote up their experiment in the Journal of the British Levitation Society.
While Kahlila is very serious about Levitation there are times when her mischievious sense of humour makes her use it for a bit of fun. At the last Royston Vasey Fancy Dress parade she used the fact she can levitate herself up to about five feet from the ground. She dressed up as a witch and made out it was the broomstick that had the magic powers.
She would have probably got the First prize too but for the fact that Nellie Bickersdyke was Lady Godiva. Nellie's long golden wig was blown off by the wind  and all Royston Vasey saw her predicament.  They gave her the prize to cover her embarrassment.
Jan 13 10
July 13, 2013
Kahlila Gibran:- Levitation. Part 1
Kahlila studied the Scientific Paper written by Sir Henry Bartlett-Pounder Society on the Levitation Experiments carried out by Master Li and like him decided to start with sheep there being plenty of them in New Zealand.
Her first success was with lambs some being far more suscepible to the power of her mind than others. The rearmost lamb she named Bleriot (also pictured at top) and was the subject of many of her experiments. Like Master Li she found that 5 or 6 feet was the highest she could manage on her own.
She then wondered if she could levitate herself but had no success until she learned it from the Masai when she was researching her book "Fertility Rites of The Tribes of Central and Southern Africa", an excellent read by the way and now available in paperback. Though by nature very tall, the Masai needed a little more height to spot their cattle on the vast plains and evolved a system a system of levitation that enabled them to rise to an height of five or six feet. 

Judefa lived with them several months and they taught her how to levitate herself and other people. It only works with living things, inanimate objects remain so. Kahlila says one of the snags is that once clear of the ground you are in a virtually frictionless state and a slight breeze will carry you or the levitated subject away.

Here is a Masai Herdsman showing a `cattle search' levitation.
Further to Kahlia's levitation skills, she normally does not use them in public, but after being harassed by this particularly annoying child she levitated him to her max height of 6 feet and watched him drift with the breeze away over the lake. It was later reported in the local press he'd been retrieved from a tree on the far side. That'll teach the little sod.
To Be Continued
Jan 08 10
July 12, 2013
Kahlila Gibran :- The Master Li Connection
Master Li's interest in Levitation started in the Marsden Charity Shop where he calls every Saturday to browse through the books on offer. Some eighteen months ago he came across a old copy of " The Art of Levitation" by Countess Petrova Blavatsky and immediately bought it. It is fully illustrated, a few samples of which I show above. With much study and practice, starting with Hari the house rabbit, he eventually got to the stage of making full size sheep fly. A picture of one such below. 
As can be seen the sheepdogs had problems coping with sheep that flew over their heads rather than going where they were herded.
Master Li's abilities came to the attention of Sir Henry Bartlett-Pounder of the British Levitation Society who wrote the report  on the Levitation Experiments carried out by Master Li that was to  play such an important part in Kahlila's life.
Dec 30 09
July 11, 2013
Kahlila Gibran:- Her Early Life    Part Two
The first Robot she ever made was the one shown above made  out of card. Later she became so advanced that she built this one she called "Boogie" because it could play Boogie Woogie on her little piano.
Below is one of her later Robots, named Tiny Tim. The reason for her Bunny Outfit is because she was on her way to a party at her friend Tinybunnywoman's gaff.
 Tinybunnywoman insists that her visitors dress up in Bunny Outfits. 
This visit was to have a profound influence on the future course of Kahlila's life. Tinybunnywoman told her about an Englishman who was a rabbit enthusiast like herself. He had not only a garden full of rabbits but a House Rabbit named Charli as well. He had a pechant for ladies in Bunny Oufits. The most intriguing thing about him from Kahlila's point of view was that he was an expert Levitator. 

When she got home she searched in her father's Technical Library for any reference to Master Li.
She found a Scientific Paper written by Sir Henry Bartlett-Pounder of the British Levitation Society in the form of a report on the Levitation Experiments carried out by Master Li of Royston Vasey in the West Riding of Yorkshire, England. She resolved that one day she would meet Master Li and find out more but in the meantime she would experiment herself on the lines indicated in the paper 
Dec 29 09
March 21, 2013
Floating On Air
——-and so was I when I saw Melissa Drew's superb legs in stripey stockings,they even dragged my eyes away from her beautiful face.
June 27, 2012
ROYSTON VASEY NOTES AND NEWS
After six weeks at Kahlila Gibran's Levitation classes Toro found difficulty in keeping her feet on the ground and tended to float away if she let her mind wander.
April 9, 2012
TINDINK'S EARLY YEARS

Tindink took full advantage of her Levitation skill during her teenage years. It should be mentioned that from the very start she never needed stabilisers on her two wheeled bike

April 3, 2012
The Chinese have mastered the takeoff in their Aircraftless Flying programme——
but the landings are proving a bit of a problem.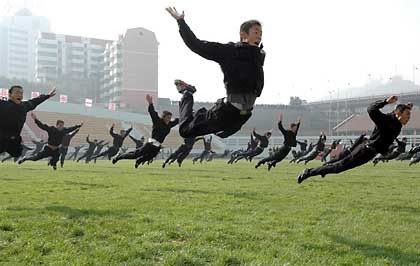 March 11, 2012
When she got home Drucilla took the Kahlila Levitation Lamp out of its box and carefully read the instructions. Then she stood against the wall and switched it on. She felt only a faint vibration but when she drew her legs up to her chin she realised she was floating, it really did work———
Poor Mason

Had to give Mason phenobarbital this morning since he desperately needs a nail trim. One would think that since he was dumped on the steps...

Abort the mission!

Mason was all doped up and we made it for our 9am appointment.

Another client was in the next exam room; she had arrived at 8:30,...

"

Whether it was power they sought, or revenge, or love — well, those were all just different forms of hunger. The bigger the hole inside you, the more...

"

I battled a bookcase

My hands often have a life of their own. I learned another lesson the hard way (is there any other way for me?).

I don't have a...

Maybe this won't seem funny to you, but I thought it was hilarious. Of course, I am functioning on a total of two hours of sleep.

The man came to...