Captain Cloggy is a gnarled old Yorkshireman who lives in the legendary village of Royston Vasey. Loves Mechanical things and Steam and has a weakness for hats, corsets and Antipodean ladies. NB. All images are copyright of the original creator --------------------------------- Message Cloggy
HERE
Click HERE for Tumblr Contact
October 3, 2012
STEAMPUNK
Steampunk Frankenstein by Dana Mattocks
September 29, 2012
STEAMPUNK
SteamPlanet PC Casemod by Arg0s (Pablo Suarez)
July 23, 2012
bitchslapping cary grant (and other stories): So one of my boyfriend's friends has just finished building his own...
So one of my boyfriend's friends has just finished building his own computer system [or 'rig', as the digital cognoscenti apparently call it], and it has left me with another thing added to my list of things to accomplish in life: to build my own computer.

apparently it's not super-difficult — i…

Cloggy :— Go for it. Buy a Motherboard bundle so you know everything is compatible and a nice roomy case so you can work inside it without cutting your hands and you are away. There is a nice feeling of accomplishment every time you use it.
(Source: valiumpoetics)
July 20, 2012
COMPUTER

Try convincing to Airport Security bods that this is your Personal Computer !!
Amazing Case mod by Ton Khowdee.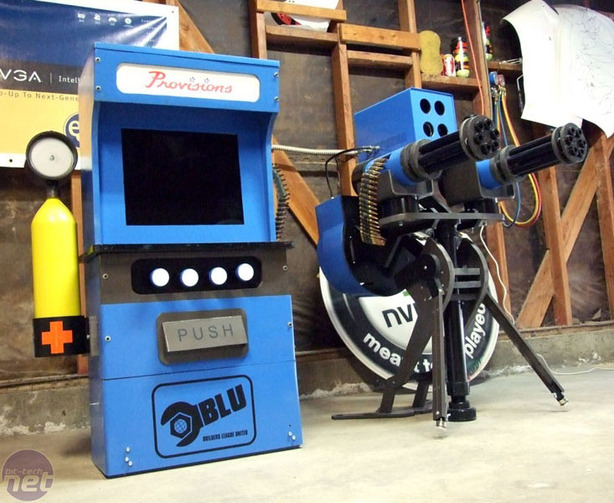 July 10, 2012
DIESELPUNK COMPUTER
Quote "Born out of futuristic vehicle designs of the mid 20th Century, BaDassumption is a totally unique take on scratchbuilding——"
May 21, 2012
(via Make mainframes, not war: how Mad Men sold computers in the 1960s and 1970s | Ars Technica)

Cover photo for a 1964 brochure for the PDS 1020 Digital Computer.
Cloggy—- The first computer I used for NC programming was a tiny thing like this, it was connected by telephone to a Mainframe in Valley Forge, Indiana so we were on Eastern Standard Time or some such. The heat sensitive printer would shoot a whole reel of paper up the wall if you did not press the keys in the right order, and if you left the prints near a window they would turn blue all over. They don't know they are born these days, now if they had to programme in DOS—-
(via rrrick)
January 23, 2012
Are you addicted to the computer?? This could cure you. Click HERE
October 24, 2011
STEAMPUNK
An amazingly mechanical looking computer. Lots more in this vein if you click pic.
October 14, 2011
If Only