Captain Cloggy is a gnarled old Yorkshireman who lives in the legendary village of Royston Vasey. Loves Mechanical things and Steam and has a weakness for hats, corsets and Antipodean ladies. NB. All images are copyright of the original creator --------------------------------- Message Cloggy
HERE
Click HERE for Tumblr Contact
November 22, 2013
Mark Krause's "Icarus"
November 16, 2013
"Bloody hell Bert did you see that?"
"Aye, funny bloody plane, it'd got t'wheels on top"
October 19, 2013
HONEYMOON GETAWAY !!
Which will Janice  & Tom choose  for their getaway??.
October 18, 2013
HONEYMOON GETAWAY !!
Erin & Matt choose Lockheed for their getaway.
October 16, 2013
HONEYMOON GETAWAY !!
Sophia & Bradley choose a Texan for their getaway.
October 13, 2013
Intrgued by Sarah Banana's Hanger Wedding I reblogged I just had to look further and found this:——
——-If you are getting married in an aircraft hanger as Sarah Banana did then a biplane makes a handy place to hang your wedding dress. Aircraft is a very sleek Stearman of the Red Baron Pizza Flight.
October 13, 2013
Ladies! by SarahBanana.ix on Flickr.
Cloggy:—-Now that is the guest I'd have liked to have had at my wedding
September 16, 2013
DIESELPUNK LADY with BLOODY GREAT PISTOL
Flying helmet and Goggles and great legs. How did she get that Stearman biplane into that shed?? Love to read the story of this adventure.
September 11, 2013
DIESELPUNK
As I said HERE, having the engines mounted on struts above the wing have advantages more than keeping the engine and propeller clear of the spray. Here are two versions of the Saro Cutty Sark, one with a single radial engine and the lower with two streamlined 'in line' engines.
With Saro's small Flying Boats the number and type of engines was very flexible as can in this line up of A17 'Cutty Sark', A19 'Cloud' and A21 'Windhover' .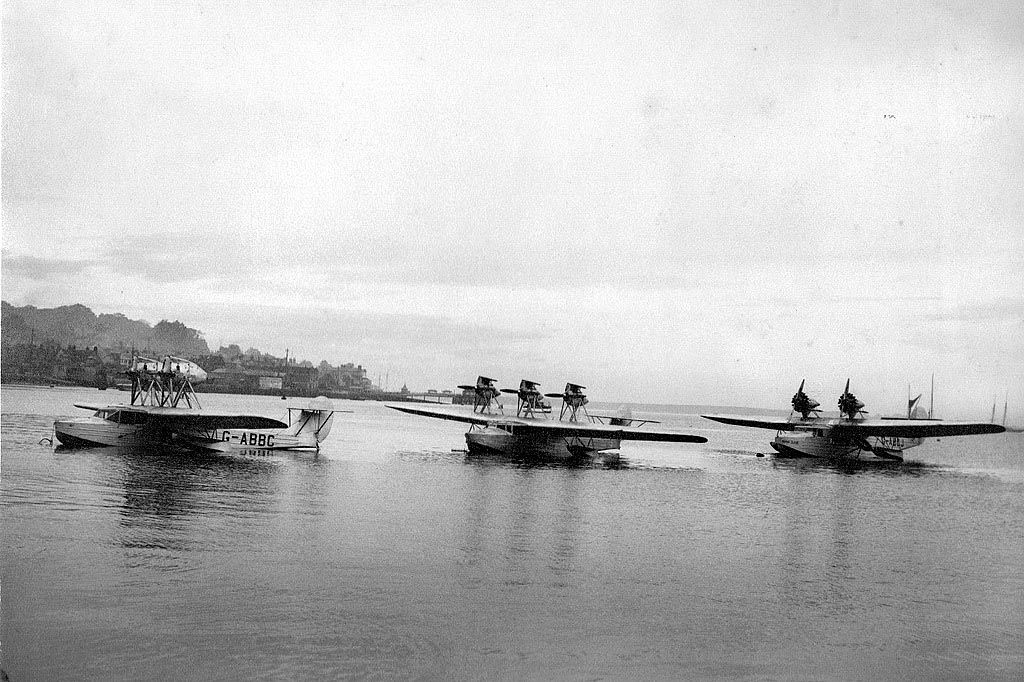 September 11, 2013
DIESELPUNK
The Saro Cloud was a British passenger amphibian flying boat designed and built by Saunders-Roe as the A.19 and later produced as the A.29 for the Royal Air Force for pilot and navigator training.
The strut mounting of the engines above the wing kept them out of the spray and facilitated varying the type of engine used.