STEAMPUNK
A lot of Steampunk revolves round dressing up and I love that side but how many get down to the nitty gritty of the STEAM part and love finding things like this Steam Winch that used to work underground in a colliery, which we found at The Yorkshire Mining Museum. It qualify's to come under the care of Kahlila's Abandoned Machinery group.
The special display of the role women had in mining especially interested the ladies of the Clogiron Appreciation Society who were with us on this trip to The Mining Museum.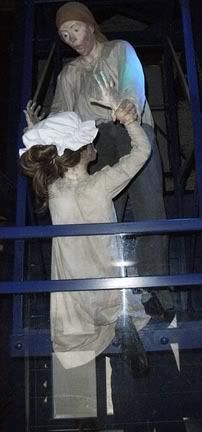 On the Underground Tour, when the guide mentioned that, due to the heat of the mine, the women worked stripped to the waist,  the Clogiron Appreciation Ladies   insisted on doing a re-enactment.
When he'd recovered the guide pointed to the coal tub and told us that rounded bottoms were very rare in British mines.
It was pointed out to him that they were a lot less rare at this moment.