Captain Cloggy is a gnarled old Yorkshireman who lives in the legendary village of Royston Vasey. Loves Mechanical things and Steam and has a weakness for hats, corsets and Antipodean ladies. NB. All images are copyright of the original creator --------------------------------- Message Cloggy
HERE
Click HERE for Tumblr Contact
December 10, 2013
Definitely wish-listed: The Burning Man Festival
Cloggy:—Wow. Imagine rolling up to The Masons Arm's in that.
(via purblinddoomster)
October 29, 2013
 ROYSTON VASEY NOTES & NEWS
The Mason's Arms Darts & Dominos Team are well prepared for their match against  Marsden Liberal Club. They know of old what a  rough lot  Marsden Liberal are when they lose.
October 26, 2013
ROYSTON VASEY NOTES & NEWS
With the Tour De France passing so close to Royston Vasey it was inevitable that  would cause some local event. This turned out to be an Historic Cycle Race that will be held over Holme Moss the week previous to the Tour. The Mason's Arms is entering Miss Georgia Fowler on this Penny Farthing and she has already made several very fast ascents of the hill and even faster descents down towards Woodhead. We are getting some good odds from the Bookies on her and once serious training starts in the Spring we reckon we have a winner.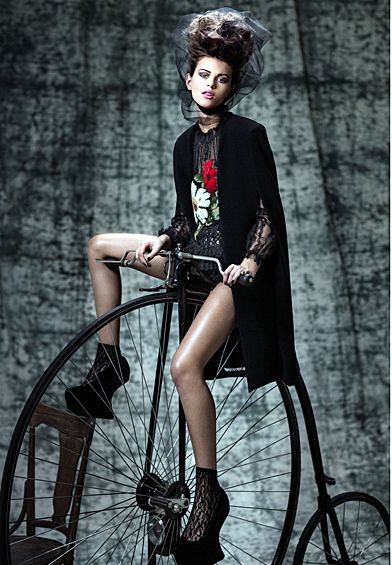 July 18, 2013
Kahlila Gibran:—-Temporal Traveller
Mrs Una Persson, Doyen of Time Travellers is staying with Kahlila Gibran for a while on business concerning The Guild of Temporal Adventurers. We picture her in Kahlila's workshop showing her amazement at the number of tools and machines it contains in such a small space.
I was in the Mason's Arms with Kahlila and Mrs Una Persson at the weekend. We were in the snug as Kahlila was dressed up for once, even had her artificial nails on, the ones with the Yorkshire Rose on.
Kahlila and me were having our usual, Mrs Persson was drinking mead, something she'd acquired a taste for when she was back in the Viking era in York. Luckily Pat O'Flanneler keeps a stock on for the Dark Ages Renactment Group that have their monthly meetings in The Mason's Arms. Frighten you to death if you meet them unexpectedly with them being all dressed in fur with steel helmets and bloody great swords.
Anyway, Mrs Persson was showing me the Chrononauts Handbook full of essential advice for time Travellers. One of the main things is to avoid anachronisms,as they will be a dead givaway.
She allowed me to post this picture from it illustrating a definite NoNo.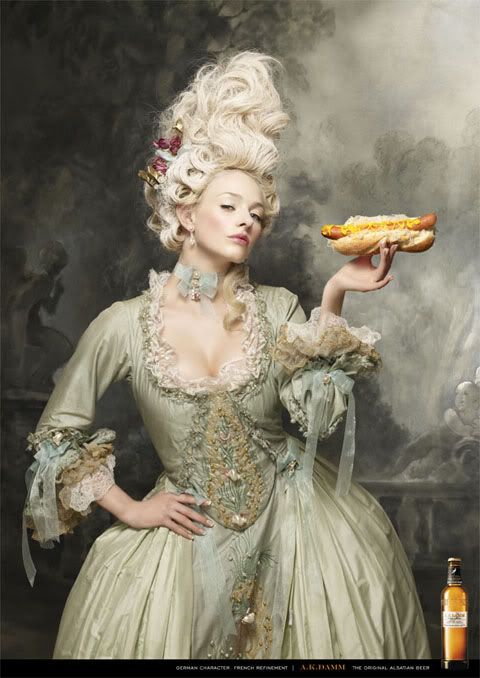 All Mrs Persson takes with her is a very small digital camera and a small Weta Ray Gun. The later is used only to incapacitate and not to kill as if someone is killed in the past it could change the whole of history and Tim Berners-Lee might not be born and then where would we be??
Mrs Persson's Victorious Mongoose small Ray Gun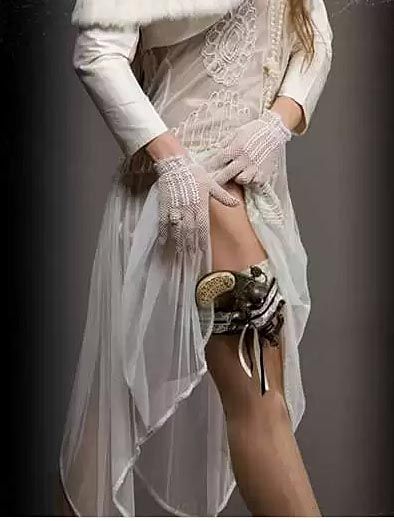 Mrs Persson's miniature digital camera
Mrs Persson let me have this picture to show you what results she can get. It is of Kahlila in 1540 at the Court of Henry VIII when Henry had just divorced Anne of Cleves and was looking for number 5. Kahlila was favourite but made her escape back to her own time and Katherine Howard was the lucky girl and was parted from her head a couple of years later. Mrs Persson was with Kahlila posing as her lady in waiting.
June 12, 2013
THE ROYSTON VASEY COSPLAY & STEAMPUNK CONVENTION
The patrons of The Mason's Arms took to Steampunk with enthusiasm and produced an amazing array of weapons.
Note:— The spiked weapon Pat O'Flanneller (far right), the landlord of The Mason's Arms, is holding is the one he uses to keep order if things get out of hand on a Saturday night.
April 4, 2013
ROYSTON VASEY NOTES & NEWS
The above appeared on the notice board at the Mason's Arms between the poster for the Easter Whippet Racing  and  Over 60's Tap Dancing and Skydiving Club notice. It appears to be the cover of a magazine and one you would not associate with the Mason's  Arms where you are more likely to find 'Pig Breeding Today' or ' The  Telegraph Pole  Insulator Enthusiast'
Intrigued, I asked Skinner Normanton, at the paper shop, who bought it and he said the only copy went to Viral Bassoon's Hairdressing Salon. I had a word with Viral and the cover was missing off his copy. He said that none of his lady customers would go near the Mason's Arms but Old Gaffer Entwistle  did come in to pick up his wife, and he is besotted  with the magnificently thighed  Johanna Dray  so we reckon he is the culprit.
March 23, 2013
ROYSTON VASEY NOTES & NEWS
The recent visit by the Tory Party Top Brass to Yorkshire has caused problems for Miss Whiplash, proprietor of Miss Whiplash's Massage  Emporium here in Royston Vasey. A number of her girls have been tempted away by the promise of big wages and other benefits to take up positions as Personal Assistants to Ministers and Senior Government Officials. This has left her short staffed but fortunately she has been able to obtain the services of the Morgan Triplets from Upperthong.
Jay, Kay and May Morgan, pictured above have been outfitted by Maris Piper of Kinky Korsets in Holmfirth.  Miss Whiplash says that the rumour that there will be a three for two offer is totally untrue and appears to have originated in the Mason's Arms. 
March 13, 2013
ROYSTON VASEY NOTES and NEWS
The Fur and Feather Club have unanimously voted to ask model Johanna Dray to open their annual show in June and bring her pet goat  along too.  "A real fine lass" old Gaffer Entwistle was heard to say "just like when I wor a lad"
March 11, 2013
The concensus at  the Mason's Arms, here in Royston Vasey, is that Johanna Dray is a magnificent example of womanhood, good enough to be a Yorkshire woman. There is no higher praise
 "Johanna Dray of France busted into notoriously thin high fashion by appearing in John Galliano's "Everybody is Beautiful" show and subsequent French Vogue editorial. She was wearing what turned out to be Galliano's best-selling dress of the show. Dray is the first plus-size model in Europe to launch a plus-size clothing line, namedTend@nces en clair par Johanna Dray, produced by catalog company 3Suisses Group."
March 9, 2013
"We are not the only ones who have encountered a point of transparency before plunging into the night of our differences and who have come up not caring whether we are male or female…

My frantic individualism is exactly in proportion to all that strives toward the interchangeability of all beings."
—
Annie Le Brun, Introduction to Lâchez tout, translation by Guy Ducornet (via frenchtwist)
Cloggy:—We were were only saying that in The Mason's Arms last night.
Poor Mason

Had to give Mason phenobarbital this morning since he desperately needs a nail trim. One would think that since he was dumped on the steps...

Abort the mission!

Mason was all doped up and we made it for our 9am appointment.

Another client was in the next exam room; she had arrived at 8:30,...